Dreamweaver: Change Split Code View Location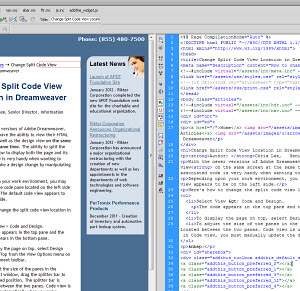 Author: Chris Lee, Senior Director, Information Technology
With the newer versions of Adobe Dreamweaver, web designers have the ability to view their HTML source code as well as the design view on the same screen at the same time. The ability to split the Document window to display both the page and its associated code is very handy when wanting to immediately make a design change by manipulating the HTML.
Depending upon your work environment, you may want to have the code pane located on the left side of the window. The default code view appears to be on the left side.
Here's how to change the split code view location in Dreamweaver:
Select View > Code and Design.

The code appears in the top pane and the page appears in the bottom pane.

To display the page on top, select Design View On Top from the View Options menu on the Document toolbar.




To adjust the size of the panes in the Document window, drag the splitter bar to the desired position. The splitter bar is located between the two panes. Code view is updated automatically when you make changes in Design view. However, after making changes in Code view, you must manually update the document in Design view by clicking in Design view or pressing F5.
The views expressed in the contents above are those of our users and do not necessarily reflect the views of Rikter Corporation. By posting here, you agree to all our Terms of Use for Comments.
Copyright © 1999-2021 Rikter Corporation. All Rights Reserved.
Contact us