Arrowheadrealtors.com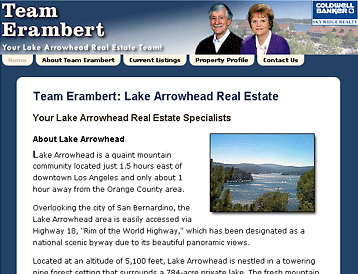 Arrowhead Realtors are a group of Coldwell Banker Real Estate agents in Lake Arrowhead, California.
They contacted us because they were not happy with their previous site's usability. They wanted a site that was very easy to use, as well as quickly load the real estate property photos.
We also set up a property profile email system, designed to allow property profile feedback to be collected from their website, stored into a database, and automatically emailed to the appropriate agent.
We built the entire site in strict XHTML, using only CSS for layout. In addition, the entire site conforms fully to U.S. Section 508 accessibility guidelines. It contains a fixed layout, centered, and all pages are automatically 'printer-friendly' through the use of modern CSS technology.
Placing a name to a face is an important part of the Real Estate industry. We choose to place their photos front and center, and to refer to members of their team by their first names on the site.
Copyright © 1999-2021 Rikter Corporation. All Rights Reserved.
Contact us