PerTronix Inc.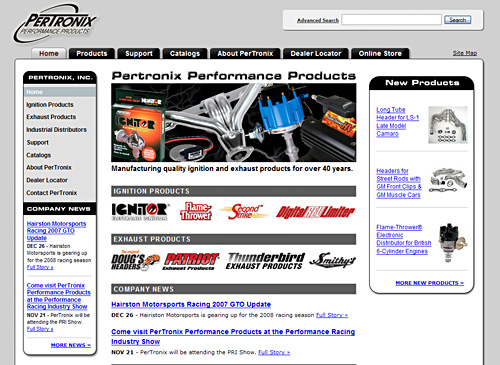 Pertronix, Inc. recently began their fourth decade as a market leader in the electronic performance ignition industry. Substantial growth has made it necessary for PerTronix to expand production and relocate to a brand new 22,000 square foot custom manufacturing facility. By the end of 2006, the company's Ignitor kit sales exceeded 3,000,000 units.
Although PerTronix was making tremendous strides in the automotive industry, their web site was in dire need of a complete redesign and performance overhaul. Kind of like our web developer's 1986 Ford Mustang GT.
We spent months on this project. And we loved it! Before we started, we barely knew how to check the oil and tire pressure in our own cars. Once we finished, we had headed out to the racetrack to check out the new Jerry Bickel 2007 GTO including double frame rails, a Mark Williams full floater rear end and a stretched 110" wheelbase with a composite Five Star body. Yeah, we're hooked! There's nothing like seeing a GTO make a 6 second pass down a... oops, back to the redesign...
Here's the before and after stuff:
Before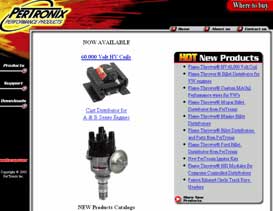 After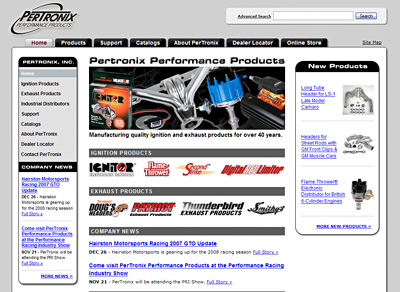 A two and three-column fixed, centered design was used and is controlled completely by strict CSS technology. All pages are automatically printer-friendly with no need to obtain a 'Printer-Friendly Version'. The entire web site was developed using the Microsoft .NET framework and utilizes the latest in page speed optimization.
Among the many other improvements:
Expanded sections, product information, and dealer resources.
Improved dealer locator to find a PerTronix Dealer closest to the site visitor.
Integration with an online store.
Faster pages, streamlined navigation, and hundreds of improvements to the code.
Site was written in standards-compliant XHTML 1.1 markup language.
All presentation elements are controlled by CSS.
Code is written to help conform to Section 508 guidelines.
SQL Server 2005 used to manage all site data.
What We Are Most Proud Of
The Exhaust Products section. It's simple and very streamlined compared to how it was before. It's also a lot more interesting to browse around.
The PerTronix, Inc. Web Site was our most interesting and most enjoyable web site projects to date. And we learned more about cars, ignition, headers, and exhaust systems then we ever thought was possible! They are a great group of folks over there---so go check out their site!