Project: Tech Group Sales Quote Web Portal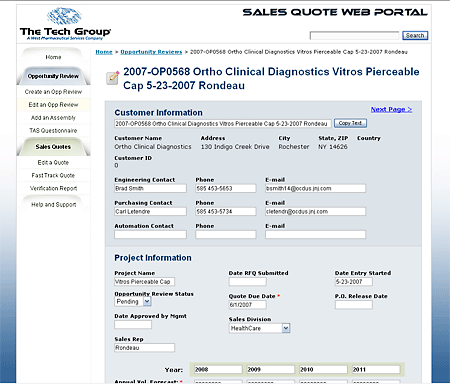 The Tech Group, part of West Pharmaceutical Services, Inc., is a nationwide corporate leading provider of custom injection molding and contract manufacturing solutions for pharmaceutical, medical device and consumer product manufacturers worldwide. The company serves customers from 13 manufacturing sites throughout the U.S., Mexico, Puerto Rico and Europe.
Before any product is manufactured, a detailed quotation process is implemented. In order to improve this quotation process, we designed a web portal so that managers of the Tech Group could facilitate the sales quotations and review their customer data.
This web portal consisted of various data entry pages, document and information organization, and pages of manufacturing and customer information stored in SQL Server databases.
We built the entire web site in strict XHTML, ASP.NET 2.0, and utilized CSS for layout. We also AJAX-enabled many of the pages for faster response times. In addition, the entire site conforms to U.S. Section 508 accessibility guidelines. It contains a fixed layout, centered, and all pages are automatically 'printer-friendly' through the use of CSS technology.
Managing data in the manufacturing business is critical. And an important part of that process is making it easy to organize and input that data. Our web portal serves that purpose for The Tech Group.