Web Design Portfolio
Current Web Design, Database, or Software Development Projects
NASA ACARS (Aviation Safety Reporting System - NASA) (redesign (Intranet/Specialty) Nonpublic
pertronix.com (product lookup system)
Other Web Design Project Examples
We work with a diverse and worldwide range of businesses and corporate clients, and many of them are non-public intranets which we cannot list on this page. Listed below are just a few of the public web development project examples.
The Tech Group
Business: Medical and manufacturing industry
Project Scope: Intranet/web portal design. Developed a web portal to capture sales data from the mobile sales force to streamline the quotation process.
Address: (private intranet for The Tech Group)
Pertronix, Inc.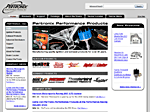 Business: Automotive part manufacturing
Project Scope: Complete web site redesign, database construction, and content management integration.
Address: www.pertronix.com
Copyright © 1999-2023 Rikter Corporation. All Rights Reserved.
Contact us